Despite its monochromatic look, this is as colourful and exuberant a show as you will find in 2020. David Byrne's American Utopia will rank highly on a lot of peoples end of year lists.
We are going a tad shorted with this review than usual. This is because this is simply a concert film/performance piece/stage performance that needs to be watched immediately with as little context or information as possible. Rest assured that watching it will be a rewarding experience.
David Byrne performs his 2018 album turned 2019 Broadway show, with an added number of classics from his back catalogue in the Hudson Theatre in New York. Directed with the deftest of touches by the wonderful Spike Lee.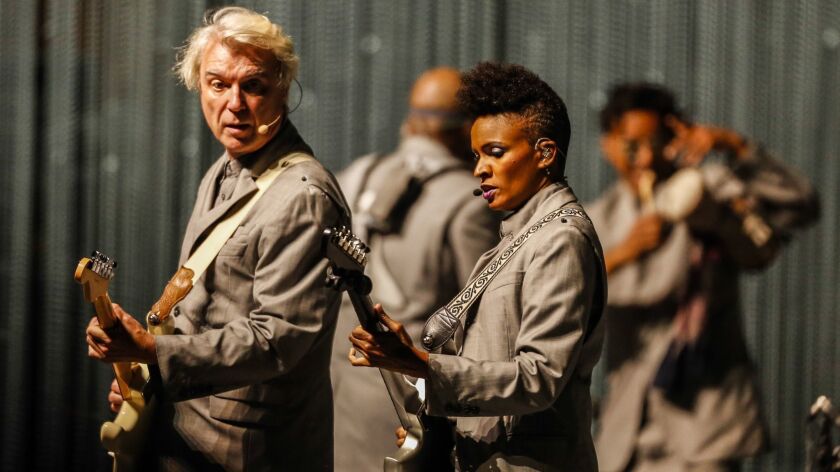 Where David Byrne's American Utopia excels, is when it meshes between his songs so he can provide monologues to the audience about urgent matters in the world today. There is an evident lack of subtlety, seemingly purposely so. Still, when combined with the performances, his words surge through you, you feel what he says and believe it. It is an interesting juxtaposition and Lee's camera openly alters when we come to this mini Ted-Talks. We focus on Byrne and his magnetic charisma as he presents his thoughts to us.
Thanks to the audience, Lee's cameras occasionally lose sight of who we should be seeing. With a crowd (or crowds, as it was filmed over multiple nights) that are here to take in every song, move and word that Byrne is willing to give them. The atmosphere in the Hudson Theatre is constantly full of electricity. While the majority of the audience has aged with Byrne over the past number of years, they sure do make their presence felt here. Creating a truly unforgettable experience.
The political element of David Byrne's American Utopia is obviously what drew Spike Lee to the live recording project. Despite this we see some wonderful shot choices from Lee. Including the Gods eye lens that allows us to watch the synchronised movements of Byrne and his group as they dance and weave around the bare stage. Lee and Byrne take a full grip of the visuals here to help stir the appropriate response from not just the theatre audience but also us sitting watching at home (or hopefully a cinema).
One such shot of using a grounded front light to smother Byrne with light as his silhouette becomes a giant onto the grey curtains at the back of the stage. All the while the rest of the instrumentalists look tiny in comparison. It is a truly wonderful shot that shows that a great deal of thought was brought into the performance to affect us and it works.

The standout song throughout is his rendition of Janelle Monae's "Hell You Talmbout". Which is better left undescribed so you as an audience can feel it's full emotional impact. Instead of finishing here, Byrne makes sure that the crowd go home happy with fists pumping. It is a smart decision and assists with keeping the tone that he was going with throughout the show. While it is important to remember the socio politic points being presented. He wants to show that there is hope out there. That those listening will remember and take from it something positive. It might be cliché to finish this way, but in this case, it is needed to have the desired effect. Anything else would cause a flatness, which would deflate the point.
Byrne and Lee have created magic here and while it is not as tightly weaved to make it as balanced as it truly needs to be. The emotional connection of the entire production more than makes up for it. This is an experience that needs to be seen and most importantly, one that will be enjoyed.
★★★★1/2
To view more of our reviews as we cover the London Film Festival 2020, please have a gander below!
The Painter and the Thief ★★★★ – LFF 2020
Never Gonna Snow Again ★★★★ – LFF 2020
One Night in Miami ★★★★ – LFF 2020
Another Round (Druk) ★★★★ – LFF 2020