ARTICLE UPDATED
An hour or so after John Krasinki postponed the release of A Quiet Place: Part 2. It has been announced that Fast and Furious 9 has been postponed until April 2nd 2021. Read the statement below: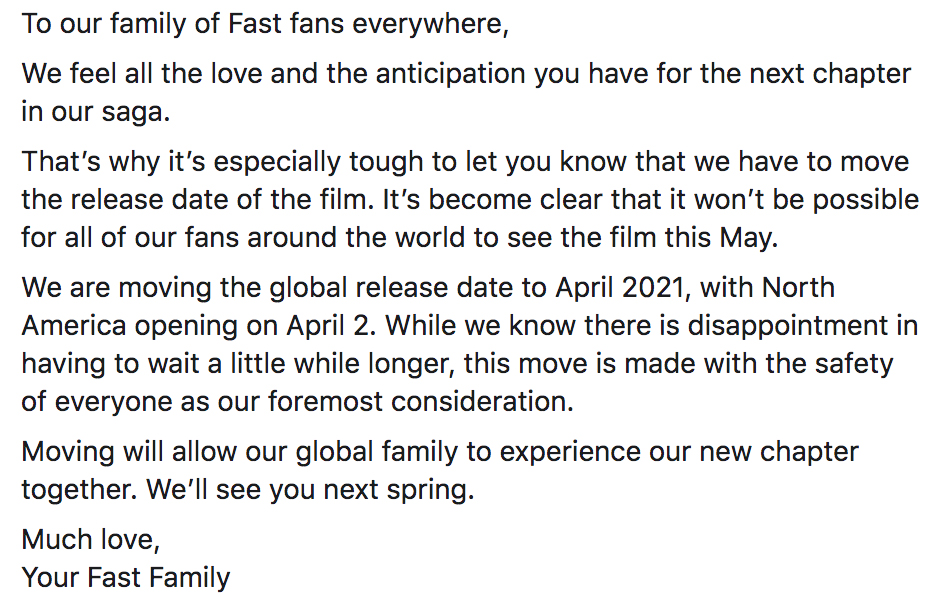 In our last post, we thought that films that F9 would be safe, but we forgot that the North American release was sooner. This move makes a lot of sense and it will put more pressure on Disney to postpone not only Mulan, but Black Widow. Will they flinch.
This now makes it the fourth film to be postponed in recent weeks and it will surely not be the last, with the likelihood of cinemas closing during possible shutdowns akin to what we are seeing in Italy and China. How will cinemas, and studios respond to such circumstances? Only time will tell, but it is a worry for cinema over the next month.
It seems that today is postponement day. Will any other films be postponed today?
UPDATE
Paramount have now postponed The Lovebirds and Blue Story. Effectively any film to be released in the next 6 weeks, expect it to be postponed. We will update when we know more.