A film that subverts your expectations. While a little rough around the edges at times, Pauric Brennan's Don't Sell Me A Dog has plenty going for it to keep you invested in the story. A solid film that surprises thanks to some great direction, a strong script and solid performances.
After his car is hijacked by an addicted couple CD (Mark Agar) and Adele (Liadh Blake) and their stolen cash, the unassuming Joe (Any Yule) must seize back control before the searching gangsters find and kill them all. But with trust earned, lessons learned and solace sought, bought and sold, it soon becomes apparent that the truth hurts… Lies kill.
Don't Sell Me A Dog has moments of great tension, yet it is the heart to heart moments between Any Yule and Liadh Blake that keep you going. We have a girl who is completely lost in this life and only sees a path of destruction for herself with only a stranger to guide her in any way. Their careful and tender discussions allow us into the feature and provide Pauric Brennan's cat and mouse thriller another direction to venture towards.
Kept to mostly filming in and around a car, Brennan and writer Mark Hampton make their film work tremendously well. Even when there are three characters in a car together, Brennan can make all characters feel isolated. Joe has distanced himself from everyone and anyone after the death of his wife. CD is spiralling due to his addiction and has dragged Adele in with him, just so he doesn't feel alone. Adele has dreams of being more but can't leave CD on his own for fear of what it will do to him, so she hides within herself.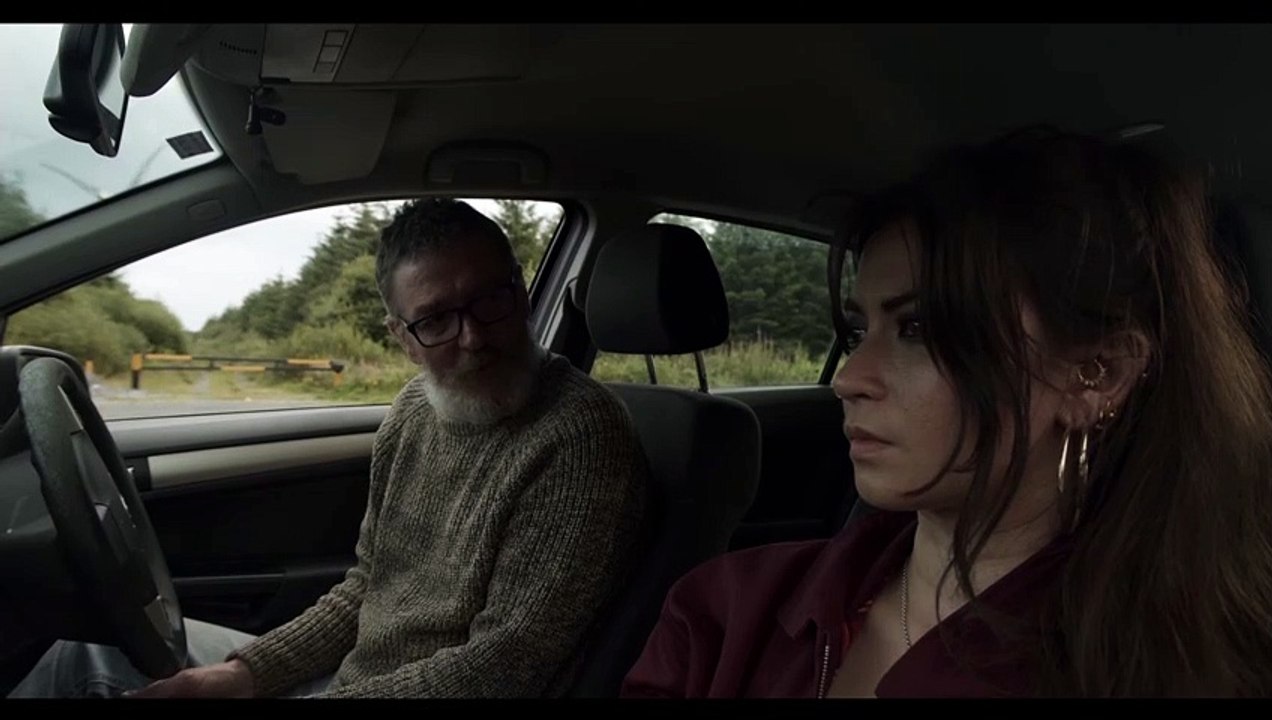 All of these characters are interesting. As Hampton's script slowly ekes out more information about the trio, we are allowed to feel for them, despite the predicament they find themselves in at the film's opening. As crime boss Brian (Damien Lumsden) searches for the two thieves, we see the strength in casting good actors. However, at no point do you feel comfortable in his presence as he talks to other characters. With the tension racking up, the longer his conversations continue, he always thinks ahead, and you seriously worry for everyone, even if CD does little to appeal to you.
There are small moments that don't fully work and lapses in the performances; however, for the most part, everyone gives solid performances. Similarly, some scenes go on for far too long with little happening, slowing the already slow pace to a crawl due to the heavy dialogue-based scenes. But Brennan's capability as a director is clearly apparent for all to see here, as even in those slow moments, he can insert something to keep the audience with him. Keeping everything feel as realistic as possible with his confident direction, he gives us a feature debut that should be the first of many, very much a talent to keep an eye on.
Not only does Don't Sell Me A Dog have those moments of tenderness and guidance, but it is also rife with comedy moments. Characters struggling to get Joe's car started is not entertaining. What should be a standard crime thriller ends up evolving into something more, and it is all the better for it. With some twists along the way, we are left with a low budget Irish indie film that does an awful lot right.
★★★ 1/2
Don't Sell Me A Dog will be available on streaming services soon, check back on our social media and we will let you know where to go to view it.
Support Us
I am but a small website in this big wide world. As much as I would love to make this website a big and wonderful entity. That would bring in more costs. So, for now all I hope is to make Upcoming On Screen self-sufficient. Well enough to where any website fees are less of a worry for me in the future. You can support the website below…
You can support us in a variety of ways (other than that wonderful word of mouth) and those lovely follows. If you are so inclined to help out then you can support us via Patreon, find our link here! We don't want to ask much from you, so for now we have limited our tiers to £1.50 and £3.50. These will of course grow the more we plan to do here at Upcoming On Screen.
Thanks for reading, every view helps us out more than you would think (we have fragile egos). Until next time.
Social Media
You can also support us via Twitter and Facebook by giving us a follow and a like. Every one helps!