Jeremy Sims' brings us a warm-hearted jaunt in rural Western Australia that keeps the humour while never being afraid to bring the drama and a few tears. Rams is assisted with stellar performances from Sam Neill and Michael Caton, this is an adaption done right.
In remote Western Australia, two estranged brothers, Colin (Sam Neill) and Les (Michael Caton) are at war. Raising separate flocks of sheep descended from their family's prized bloodline, the two men work side by side yet are worlds apart. When Les's prize ram is diagnosed with a rare and lethal illness. Authorities order a purge of every sheep in the valley. While Colin attempts to stealthily outwit the powers that be, Les opts for angry defiance. But can the warring brothers set aside their differences and have a chance to reunite their family, save their herd, and bring their community back together?
Rams surprises by how much drama is presented within its running time. From the opening scenes, you would imagine that we are to expect a light-hearted jaunt about two brothers who don't get along. With jokes about the size of a ram's testicles and swapping dog names to claim ownership. Rams is a film that is setting up its audience for a surprise. There is a heartfelt drama buried underneath its wool. Not just about the attempts to mend a long broken relationship, but one also about community.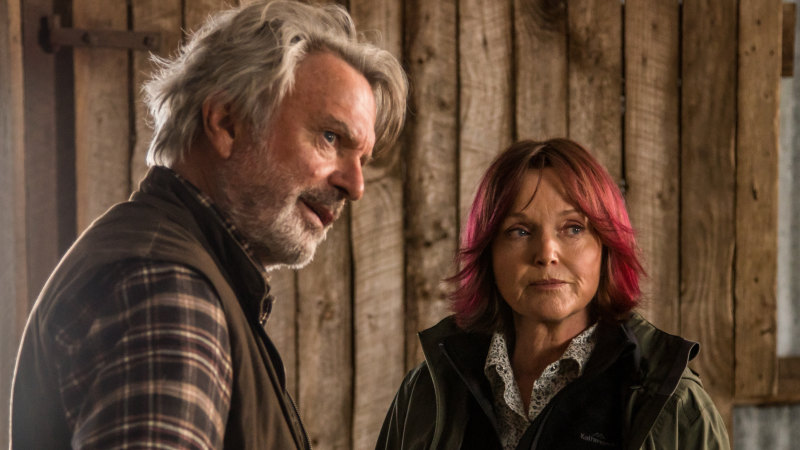 This act to show how a small community comes together in times of a crisis whilst a crisis is already happening. Rams also touch upon smaller threads such as land acquisition and the bureaucracy so prevalent in agriculture. Leon Ford's De Vries doesn't care one iota about these farmers and the strife they are currently will go through and what is still to come for them. He offers a settlement and it is clear he wants the farmers to sell their land for the government to make a profit. He continually makes jokes and is so far removed from this community that he is laughable.
There is a true heart in Rams, as mentioned. With the most heartbreaking scenes coming early on when Neill's Colin witnesses his older brother break down as his sheep are hurried out of the farm for slaughter. You feel Les's pain and desperation. This proud strong man resorts to begging on his knees and for Colin to make the decision he does with his sheep shatters you. You feel his love for these animals and the care and pride he has in them. They are as close to his children as he will get and his actions are truly wrenching.
Not only does Rams focus on the disease, but a very big Australian issue is brought up as well. With Bushfires causing horrendous damage to life every year. Sims can showcase the Australian and human spirit in helping out one another as much as possible. This simple inclusion while important to the last act shows Sims careful consideration to the country and the ideals that in such circumstances everyone is in it together.
Sam Neill and Michael Caton deliver two compelling and realistic performances here. Neill provides the balanced, at times rational side to the duo with his dialogue refrained performance. Colin is not a man of many words, but with Neill playing him simple movements or facial reactions tell more than a line would need to. This Is epitomised when De Vries and the audience find out why the brothers are actually at odds. Neill provides some emotional takes but is very reserved in his character. Which he needs to be when he is across Caton.
Caton's performance is the soul of the picture. He rants, wails and delves into his solitude to a horrible extent. While this could be a role that could go easily wrong, Caton brings so much sincerity to his performance that although at times you feel as if you will dislike him. You eventually understand. This is a man whose world was turned upside down many years ago and had subsequently pushed everyone close to him away. He is bitter and it takes (eventually) another catastrophe in his world for him to see his next-door neighbour as his brother. It is a wonderful pitch-perfect performance.
Rams is the remake of the 2015 Icelandic feature of the same name, but it is entirely a different film, even if it has a similar premise. Where the Icelandic version went deeper for its laughs. This version is a touch drier and it works in this fashion equally as well. As previously mentioned it is the drama in Jeremy Sims' iteration that helps it stand out and on some occasion where the drama of the piece is the stronger. How Colin never attacks De Vries after his multiple comments about farming and the area, we will never know.
In the end, Rams is a great film that carefully touches on subjects such as community and rural life. What remains is love for nature and all that it encompasses, even when the worst situations. Be it disease or wildfires come for it. A wonderful tale of two brothers who need to join forces for not only their interests but for everyone around them. Very much worth your time.
Signature Entertainment Presents Rams on Digital Platforms 5th February
★★★ 1/2
Support Us
I am but a small website in this big wide world. As much as I would love to make this website a big and wonderful entity. That would bring in more costs. So, for now all I hope is to make Upcoming On Screen self sufficient. Well enough to where any website fees are less of a worry for me in the future. You can support the website below…
You can support us in a variety of ways (other than that wonderful word of mouth) and those lovely follows. If you are so inclined to help out then you can support us via Patreon, find our link here! We don't want to ask much from you, so for now we have limited our tiers to £1.50 and £3.50. These will of course grow the more we plan to do here at Upcoming On Screen.
Thanks for reading, every view helps us out more than you would think (we have fragile egos). Until next time.
Social Media
You can also support us via Twitter and Facebook by giving us a follow and a like. Every one helps!