Fantasia's annual showcase of cutting-edge international genre shorts returns with 10 films from 7 countries that will leave you breathless.
ARIA – Director Christopher Poole (UK, 14 min)
A couple installs a smart home security system and soon discover its furthest-reaching implications.
Everyone seems to be getting Nest or has an Alexa etc., nowadays. So naturally, everyone wants to feel as safe as possible in this paranoid world, and Christopher Poole takes advantage of our worries in the excellent Aria. As Daniel Lawrence Taylors Tom gets more and more disturbed each night, we feel the tension rip through the film's atmosphere. We are rarely comfortable throughout Aria, and our director wants to make sure that said tension is only heightened as we get to the final night for Tom.
The only downside to the film? Why on Earth would Tom pick that chair for his workstation!? All in jest, of course, this is an excellent short from the filmmaker. However, one thing is almost certain after watching Aria, smart based home-security systems and even peepholes may not be for me.
THUMB – Director Alexandra Pechman (USA, 10 min)
The daughter of a recently deceased performance artist visits her home to pack the career archive that she's inherited. Within that legacy rests a frightening discovery.
Debut director Alexandra Pechman starts off her career with a hit here with Thumb. Pechman and cinematographer Julia Swain decide that while our two characters discuss art and the ownership of performance art, that the camera itself shall perform. Rarely until the final scenes does the camera relax and settle. In constant movement as Kate Adams and DeMorge Brown barb with one another in the bare living room, spinning and moving, allowing for any scares that arrive to have a greater focus to the audience.
Both leads verbally dance with each other, and you could easily watch the two discuss the fraught relationships with the deceased performance artist for far longer. But, instead, what shines through is the rhythm of the film, it flows so well, and as the film carefully amps up the pace, we feel that prang of shock and tension. Pechman may have just arrived as a filmmaker, but she is certainly here to stay.
THE TENANT – Directors Lucas Paulino, Ángel Torres (Spain, 9 min)
Mia wakes to find her leg has gone numb and struggles to figure out what is exactly going on.
Only 9 minutes long, yet as effective a horror as many feature lengths, La Inquilina (The Tenant) succeeds on every level. With some great physical acting from Belén Rueda as she plays the hindered lead, especially so in that killer finale. The tension that our two directors build up with simple acting and a minimal score does wonders for the film. So by the time we get to the last moments as our heroine tries to figure out if what the woman in the street was saying was true—a fantastic film.
THE DARKNESS / LA OSCURIDAD – Director – (Mexico, 12 min) 
A former schoolteacher emerges from a lake, horribly battered and dazed, looking almost like an apparition.
It is a gorgeous looking film with shots most films would die for, Sistos Moreno and cinematographer Alfonso Herrera Salcedo can place them here. Whether it be the sun setting on the lake to that final shot, La Oscuridad always looks good, which is a great juxtaposition to what we see on the screen. We know something isn't right with Ixchel Flores Machorro's Marina. Animals stop to look at her, children see her, and most importantly, her former employer sees her.
As she wanders through the countryside trying to make it back to some normalcy, the heavy sense of dread weighs down on you; what has happened to her, and how did she get away? Finally, as the film reaches its final moments, all is explained, culminating in a satisfying, if haunting, finale.
HABITAT – Director Jaime Del Álamo Calachi (Spain, 12 min)
A man compulsively playing a grotesque game show that seems never to end frantically clicks his mouse in the hopes of winning a perpetually hyped vacation prize.
The odd feeling hits over you as you finish Habitat; how many clicks have we spent on a keyboard, maybe even the same keyboard over its lifetime? Have we just wasted our time? Calachi and writer Javier Huesca challenge this thought process by giving us a film showing consumerism's lure online, how easily led we all are, especially when anything we need is but several clicks away.
It is a very clever concept, executed to perfection here. The ram shackled apartment show us a man who has either given up or just found this version of his existence far too comfortable with altering. Rubbish is strewn around, his desk and keyboard are filthy, yet there he is clicking. Considering humanity's keenness for convenience, Habitat is a straight shot to the arm that many will need.
TROPAION – Director Kjersti Helen Rasmussen – (Norway, 11 min)
In the near future, a group of survivors live in a spartan society with brutal rules, which require an inhumane offering.
This minimalist horror evokes much more emotion and atmosphere than you would think it was capable of. What is enjoyable about Tropaion is how nothing is really explained to the audience, yet as soon as we are young lead returns to the house, we get precisely what is going on. It breaks your heart as you watch someone still a child go through this and know that it is sadly inevitable no matter how hard they try.
Filmed in a beautiful valley near a forest, Tropaion certainly looks the part, and by saying so little is says so much. We see a community with middle-aged residents, and the audience soon asks questions about where the very old and young are. Keeping what we see to an absolute minimum can conjure up wondrous imagery behind those big trees.
LAIKA – Director Adam Fair (UK, 8 min)
A catastrophe aboard an international space station sends a lone Russian astronaut fleeing in an escape ship. Isolated and barrelling through space in a half-mad state, he thinks he encounters something that shouldn't be there.
A VFX special that kicks on the right when disaster strikes on the ISS. Laika is terrifically made and utilises its small set very well. Anton Saunders Oleg is a mess of stress and trauma, trying to get control of his ship while also doing everything he can to escape what has happened. As ground control tries to figure out what happened and why he won't turn his capsule in the right direction for a safe landing, we are presented with a fantastic surprise.
Fair's background in VFX helps Laika stand out from the crowd immeasurably, crafting a genuinely thrilling 8-minute film that looks as good if not better than some features that have gotten released these past couple of years. A very well made film that should be a proper launching pad for the filmmaker.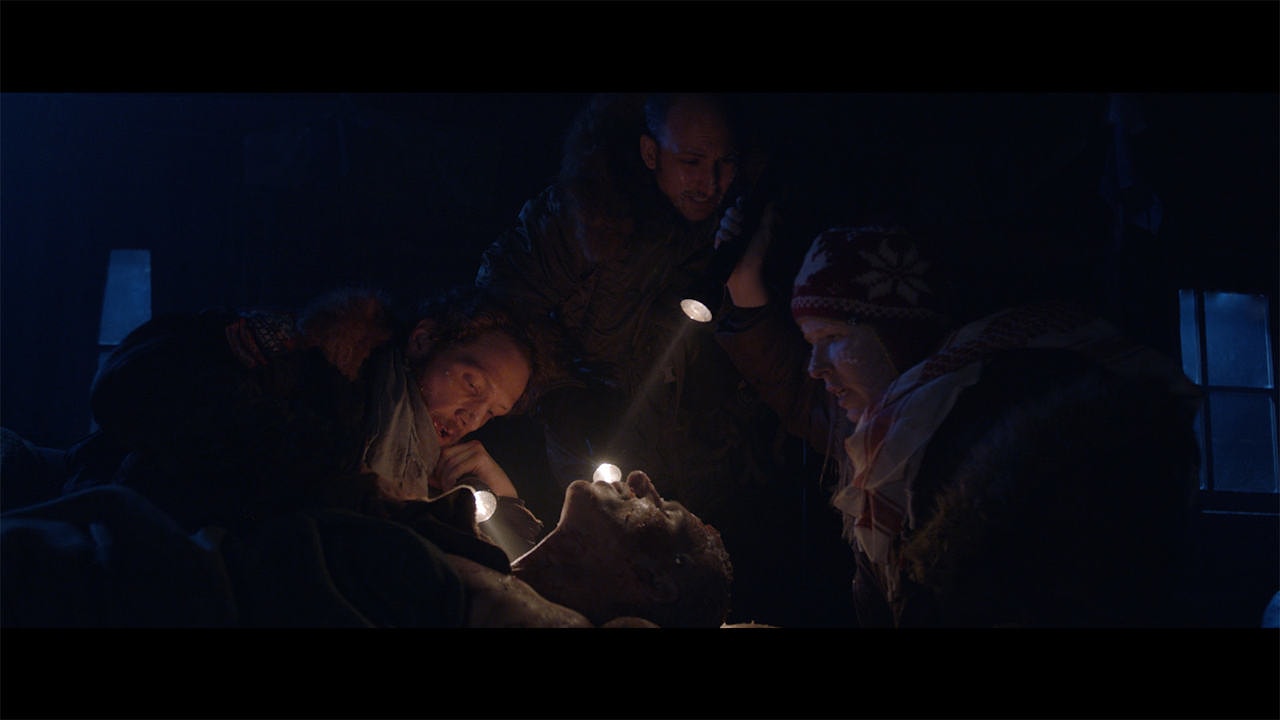 THE RELIC – Director J.M. Logan (USA, 14 min)
A pack of adventurers in search of a mythological ruin uncover significantly more than they bargained for.
The Relic feels like we have missed the previous hour and gone straight to the last act, but it is a finale for the audience. A wonderful mix of practical and special effects, this is a manic 14 minutes from filmmaker J.M. Logan. With a group member lost outside in the snowstorm and one mangled and at death's door, the group is in serious trouble. Unfortunately, by starting us off right when the groups world has hit the fan, Logan never allows his audience to get their breathe or settle.
Where Laika was a VFX extravaganza, this special effects-laden film really shocks you for how good it all looks for a short film. You never expect the story to go where it does, and with those effects, it firmly grabs you by the throat to let you know that you won't have seen many films like it for such a small team.
The Relic's Lovecraftian themes, with an echo of The Thing, leave us asking more questions than are answered and the fact that there is no real attempt to answer those questions that fly out of our mouths is refreshing and welcome. We don't need to know everything here; the mystery is what makes it all so compelling. Perhaps one day, we will return to this world. You would certainly hope so as there is a clear feature in here, and as for our filmmaker, he again, like most of the directors here, one that has a very bright future.
THE LAST MARRIAGE – Directors Johan Tappert, Gustav Egerstedt (Sweden, 15 Min)
Once enough time passes, few things can change the challenges and power dynamics of a marriage. Least of all, a zombie apocalypse.
The Last Marriage takes a far different approach. The other shorts in this showcase focus more on the characters as we witness the slow collapse of possibly the last surviving couple in Sweden or the world. As the duo make do with their life, the strains of familiarity creek upon them. Janne is happy to keep his head in the sand and keep surviving, but Marie is less content. She wants something more the spark has gone, whether that is from being trapped 24 hours a day with her husband or not.
The film is very funny, especially when we get to one of the final scenes as they both let out their frustrations about one another onto the poor zombies. There are many moments throughout that any couple who have been together for a long time can relate to. It just so happens that zombies are attacking their fence, and their zombified daughter is in their shed. Adding in the zombies, we get to see a dynamic we are not used to seeing, not even in the long-running Walking Dead. An entertaining film that brings much-needed laughs.
YOU'RE DEAD HELEN (T'es morte Hélène) – Director Michiel Blanchart (France, 24 min)
Maxime, a young man in search of stability, lives in a relationship with the ghost of his girlfriend Hélène, who died recently. Wishing to put an end to this frankly unlivable situation, Maxime finally decides to break with her. But, unfortunately, Hélène does not seem ready to accept this decision.
Like The Last Marriage, a very clever film has its strength in its writing with Théophile Roux Maxime and Mailys Dumon Hélène doing some wonderful work. So as not have Maxime look like a crazy person in public, Hélène devises that he uses his phone. Still, by choosing the worst moment to break up with her finally, he is left to argue alone inside a full Metro carriage, much to the confusion of everyone present. It is the little moments like this that shows the inventiveness of Michiel Blancharts short.
Damon seems to have a ball as she does everything within her to sabotage Maxime. Yet, there is a tinge of regret within her as Hélène as she realises she will never get to physically do things she may have never actually thought about doing when she was alive. When the fun and games come to an end, however, we soon discover just why Hélène cannot let go of Maxime. As the horror both in a standard genre way but then in a hauntingly horrific manner also. The fact the film can turn on a dime multiple times and change its tone so well is a testament to the work of everyone involved. You buy into it easy as our two leads are easy to get along with, so when we get those final moments, we feel rewarded as an audience—a fantastic film to close up Small Gauge Trauma.
With not a single film coming close to disappointing and bringing something very different to the table, we are left with ten memorable films from filmmakers that we have to see more of down the line.
For more of our coverage of Fantasia Fest 2021, have a gander below! We will update each day!
Woodlands Dark and Days Bewitched: A History of Folk Horror
The 12 Day Tale of the Monster That Died in 8
Shorts
Haute tension sur les internets – Les Fantastiques week-ends du cinéma Québécois – Short films, Fantasia Fest 2021
Support Us
I am but a small website in this big wide world. As much as I would love to make this website a big and wonderful entity. That would bring in more costs. So, for now all I hope is to make Upcoming On Screen self-sufficient. Well enough to where any website fees are less of a worry for me in the future. You can support the website below…
You can support us in a variety of ways (other than that wonderful word of mouth) and those lovely follows. If you are so inclined to help out then you can support us via Patreon, find our link here! We don't want to ask much from you, so for now we have limited our tiers to £1.50 and £3.50. These will of course grow the more we plan to do here at Upcoming On Screen.
Social Media
You can also support us via Twitter and Facebook by giving us a follow and a like. Every one helps!